VAPEN Pod Replacement Pods Compatible with ELF BAR ELFA Refilled Disposable Vape
New 500mAh Integrated & Rechargeable Battery (recycling use)-you'll only need to replace the pre-filled pod once empty. The battery can be continually recharged via Type-C USB
Replaceable 2ml mesh coil Prefilled Pod brings plenty of fruity taste and rich vapour
Compatible with Popular ELFA Devices and Prefilled elfa Pod Cartridges
Compact pocket pen size, Draw activated–easy to carry and use
16 replaceable pod flavours to choose from
6 colours available
Different Nicotine Level Strength options:0%, 1%, 2%, 5%
Certified by TPD/MHRA/CE/FCC /ROHS.
Description
SPECIFICATION:
– Passed by TPD MHRA Certified, Published on the List
– Compatible with ELFA device
– Battery:
* 500mAh Lithium battery cell
* Type C Rechargeable
* Child Lock Function Button:
** Press 5 times quickly to open. — The bottom light flashes 3 times.
** Press 5 times quickly to close. — The bottom light flashes 1 time.
– Pods
— different Salt Nic Capacity level option:0%,1%,2%,5%
— Capacity: 2.0ml
— Updated Mesh Coil
FLAVORS:
MIX BERRIES
PEACH ICE
WATERMELON ICE
TROPICAL ICE
LEMON WATERMELON DRAGON FRUIT
APPLE STRAWBERRY RASPBERRY
DRAGON FRUIT
COOL MINT
TOBACCO
TRIPLE CHERRY
CRANBERRY GRAPE
BLUEBERRY
BLUEBERRY SOUR RASPBERRY
STRAWBERRY KIWI
PEACH MANGO PINEAPPLE
RASPBERRY WATERMELON
PACKAGING:
1. Full kit: 1pc Prefilled pod + 1pc rechargeable device
2. Pod Pack: 2pc pods each pack
3. Device: Rechargeable battery only
(you can pick anyone you need, pls tell me the flavors or colors you wanted)
Frequently Asked Questions
–How many puffs are in a Vapen prefilled pod?
–Each 2ML prefilled pod is packed with nicotine salt which provides up to 650 puffs per pod. However, it should be noted that this is an approximation and results may vary depending on the duration of your puffs.
How many days are 650 puffs Last?
650 puffs is likely to last around a day depending on how regularly you vape and the duration of your puffs.
How does the Vapen pod kit differ from traditional disposables?
–VAPEN prefilled pod kit is different from traditional disposables because you can recharge the battery and by replacement pod flavors. This makes each pod cheaper to use over time and more environmentally friendly compared to traditional disposables.
How do you know when your VAPEN pod runs out?
–The first thing you'll notice is a drop off in flavor and the amount of vapor produced. This is because the juice is depleted causing the coil to dry out. If you continue to vape, the flavor will begin to taste burnt as the coil has dried out.
Additional information
| | |
| --- | --- |
| Weight | 0.11 kg |
| Product Type | Prefilled POD, POD Battery, POD Kit |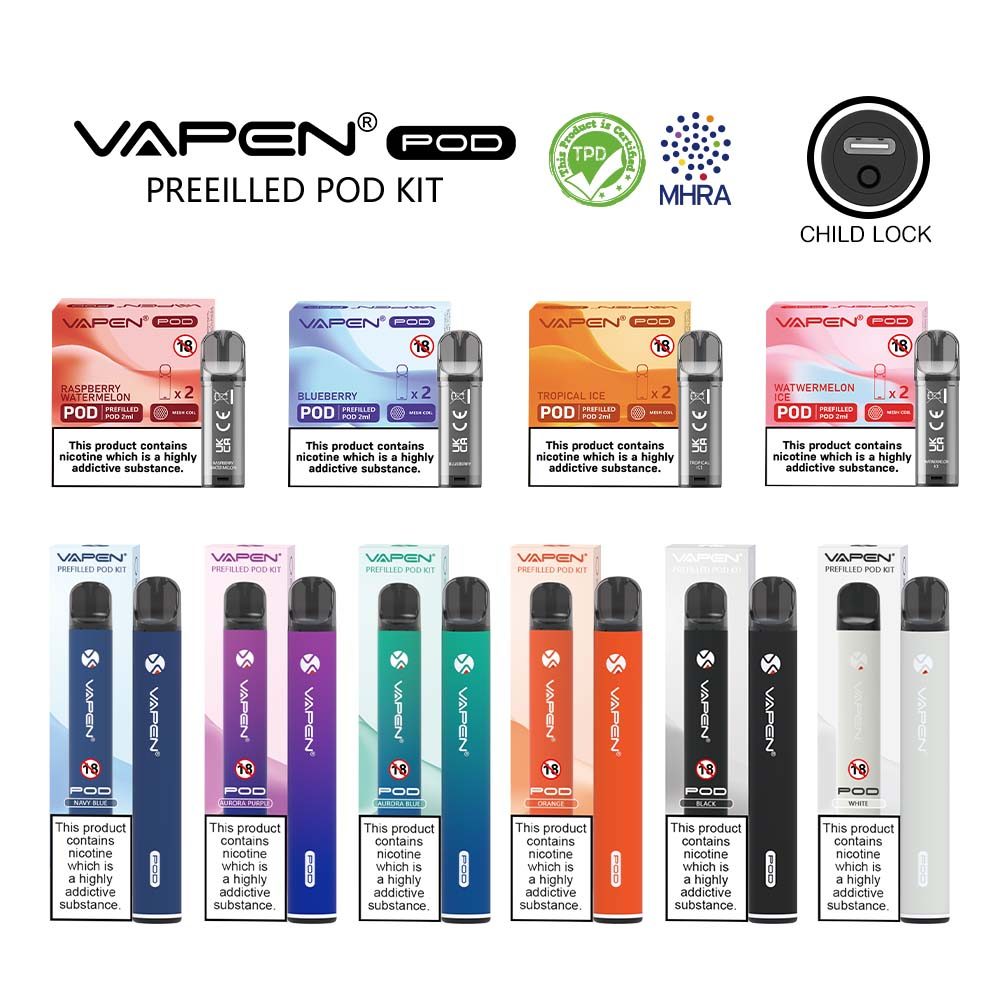 VAPEN Pod Replacement Pods Compatible with ELF BAR ELFA Refilled Disposable Vape