VAPEN META 6000Puffs 13.5ml Mesh Coil Disposable Vape Elf Bar Flavors
Sales type: Wholesale      MOQ:100pcs
Transport: free shipping   Ships out within  3 business days  10-15days delivery time
Description
VAPEN META disposable vape pod device is a pre-filled disposable vape pod system. It's compact in size and pocket-friendly, which makes it easier to carry.
The VAPEN META disposable pod device is powered by a Type-C Chargabled built-in Lion battery and contains 13.5ml of pre-filled e-liquid. VAPEN META uses an advanced MESH coil, smoother experience, and greater output, to meet the needs of large-puff disposable products. The high-grade metallic with clear tube design brings you the technological feeling and the original brand-certified e-liquid brings you the best feeling.
Also, the factory's direct sale price keeps the most profit for you. Please enjoy it.
Specification:
– Pre-filled, No need for messy refills
– Advanced MESH Coil
– Type-C rechargeable Lion Battery
– 6000 Puffs per disposable pen
– Capacity: 13.5ml
– Draw Activated Firing
– Compact and Portable
– Weight: 300pcs/carton,19kg
Flavors Available:
1. Peach Apple
2. Blue Razz Ice
3. Blue Razz Lemonade
4. Iceberry Ice
5. Cotton Candy
6. Energy
7. Grape
8. Juicy Peach
9. Kiwi Passion Fruit Guava
10. Pineapple Mango Orange
11. Strawberry Banana
12. Strawberry Ice
13. Strawberry Ice Cream
14. Vanilla Ice Cream
15. Watermelon Ice
Packaging:
Each pack includes 1 disposable pod device
10pcs a display box
Options: Please remark the detailed info in the order or contact me.
Support OEM flavors for 1k pcs+ order
Additional information
| | |
| --- | --- |
| Weight | 0.02 kg |
| Nic level | 0%, 0.9%, 2%, 3%, 5% |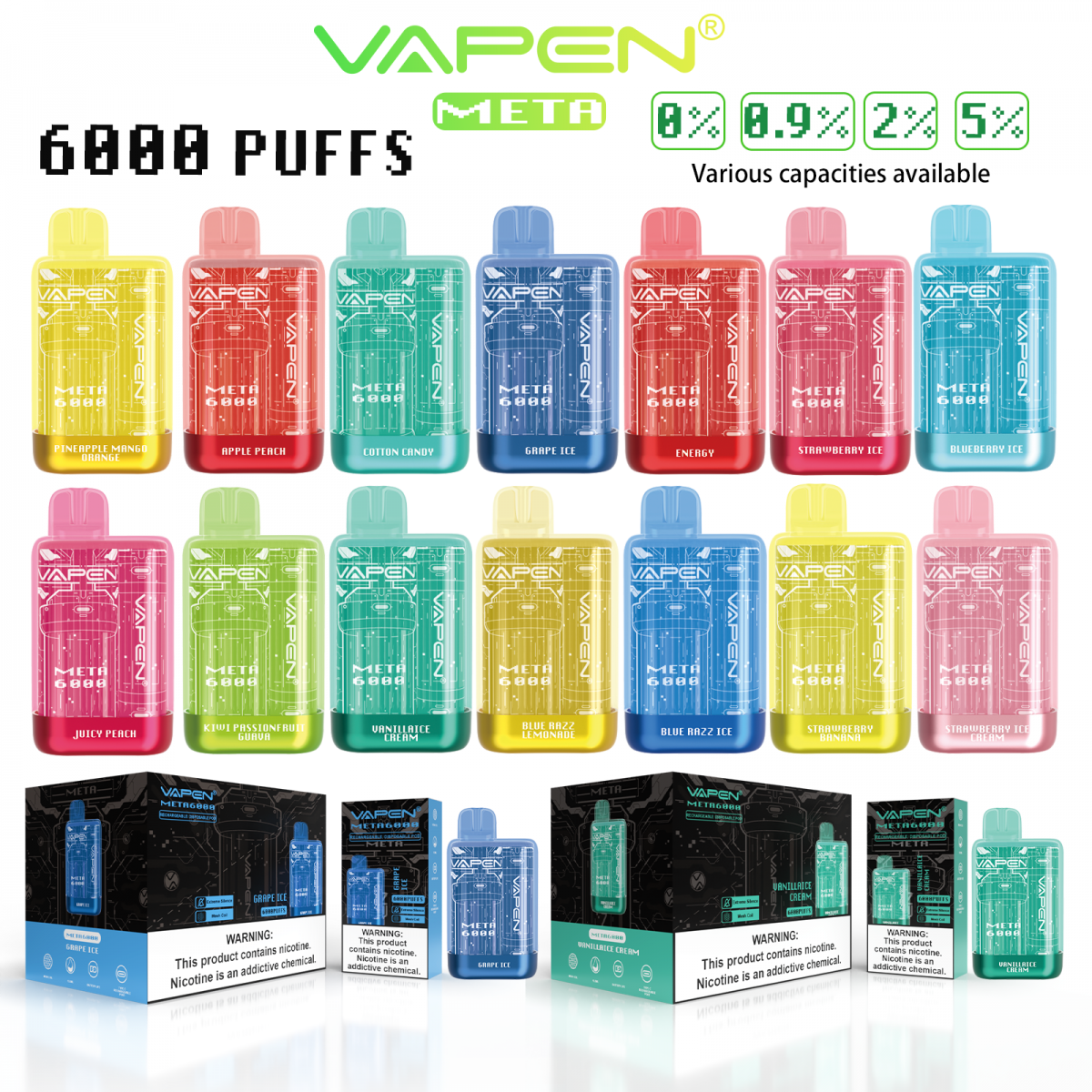 VAPEN META 6000Puffs 13.5ml Mesh Coil Disposable Vape Elf Bar Flavors