On Sale!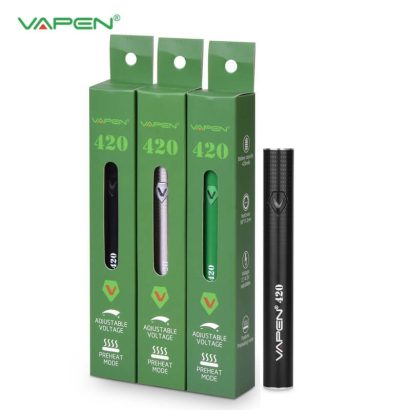 VAPEN 420 Preheat VV Battery 420mAh Variable Voltage Adjustable Cartridges Batteries
Sales type: Wholesale      MOQ:50pcs
Transport: DHL free shipping   Ships out within 3 business days
Description
At present, There are many kinds Vape batteries used for 510 thread thick oil cartridges. It is very difficult to find the perfect cheap and durable battery. Most of cheaper batteries in market have serious quality problems, like fake capacity battery cell, or use simplecapacitor to replace real lithium battery cell. It is pretty dangerous if you are using those kind batteries.
Therefore, The Vapen 420 was born, which used A level battery cell with full capacity to keep enough power. 15 second preheating function, 2.7-4.0V voltage adjustable design for CBD/THC Cartridges especially. And Its special V shaped button means the top quality. The beautiful gradual floating point design presents a highly recognizable appearance. With the bottom Micro USB charger port, user can charger it at any time
Features:
– Portability for pocket size.
– Light weight with enough 420mah capacity.
– Host size:89*11.2mm, cross compatibility for more cartridges.
– One button design, but support preheating mode and voltage adjustable.
– Discreet and Solid connection with top grade metal material.
– More durable battery life with A+++ battery cell passed MSDS testing.
INSTRUCTIONS:
-5 clicks to turn on/off
-3 clicks to adjust voltage (Red-4.0V, Blue-3.4V, Green-2.7V)
-2 clicks to preheat hold for 15 seconds (Discolored-1.8V)
Specifications:
| | |
| --- | --- |
| Model | VAPEN 420 Battery |
| Host size | 89*11.2mm |
| Capacity | 420mAh |
| Button | VAPEN V sahpe |
| Feature | Bottom micro USB charger |
| Color | Black, Chrome, Green |
| Weight | About 35g |
Package Including:
| | |
| --- | --- |
| 1pc | VAPEN 420 Battery |
| 1pc | micro USB charger |
| 1pc | Retail Packaging Box |
Additional information
| | |
| --- | --- |
| Weight | 0.02 kg |
| Color | Black, Blue, Brown, Green, Pink, Red, Silver, Violet, White, Yellow, Clear, Color, Gold, Gray, Gun color, Mix Colors, orange, Purple, Rainbow, Rose gold, Stainless steel |
VAPEN 420 Preheat VV Battery 420mAh Variable Voltage Adjustable Cartridges Batteries